The Buffalo Run South! Hoi An to HCMC in 6 Days
This latest addition of the Buffalo Run makes up the missing piece of the holy trilogy of our Buffalo Run series that now spans entirely across Vietnam! Over six days you'll get to sample the coffee capital of Vietnam, go visit an elephant conservation camp, cycle through the Central Highlands, experience Saigon's bustling nightlife and visit the famed Mekong Delta plus much much more!
TRIP DEPARTS HOI AN EVERY TUESDAY.
Check out the original Buffalo Run here!
DAY 1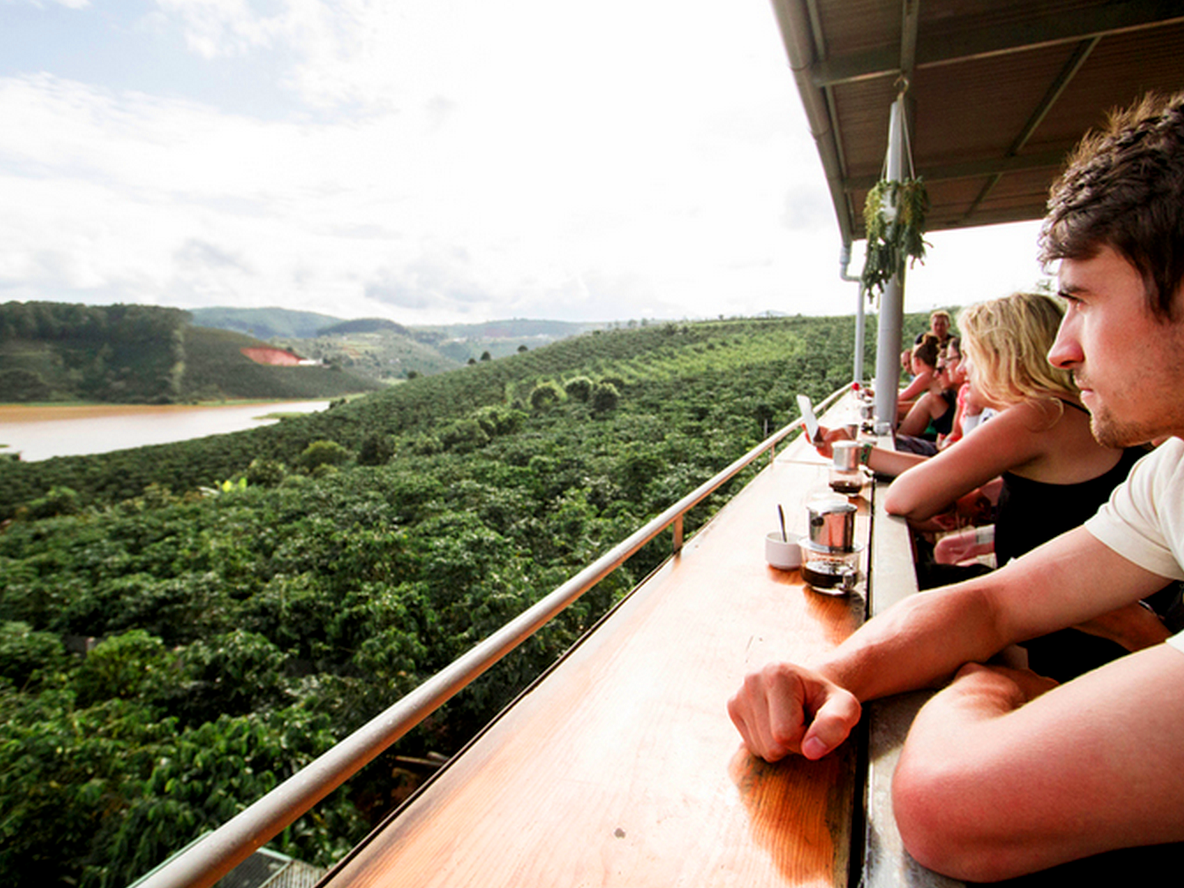 HOI AN TO BUON MA THUOT: 
We meet at DKs House in Hoi An at 9am for a brief outline of what's in store for the next week. We're then transported to Da Nang airport where we catch our flight south to Buon Ma Thuot. (Flight not included in the price. Additional cost = approx. $70-$80 USD). As we are in the coffee capital of Vietnam, and Vietnam is the worlds 2nd biggest exporter of coffee, we head directly for the famous Trung Nguyen coffee village to get our afternoon caffeine fix. From here we head into Vietnam's biggest National Park, Yok Don, next to the Cambodian border arriving in time to check out the local village where we stay for dinner.
DAY 2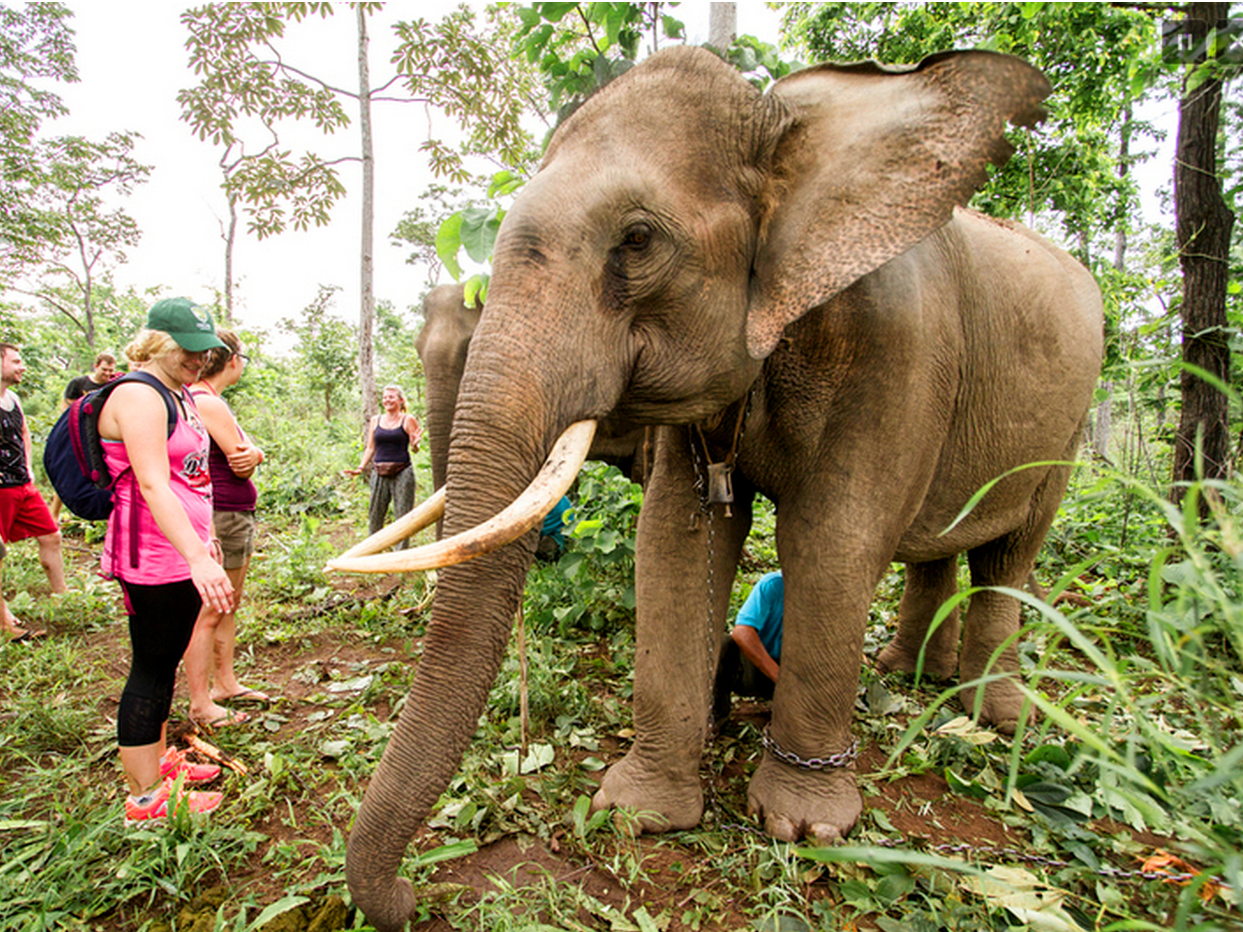 YOK DON NATIONAL PARK- ELEPHANT CONSERVATION PROJECT – DALAT
We join with the National Parks Elephant Conservation project and meet the elephant caretakers at first light to track the roaming elephants through the jungle. We then ride and walk them back to park headquarters where they take us for a swim in the river before having their health check and being set to roam free again for the rest of the day. After breakfast we head for Buon Ma Thuot to enjoy a local specialty lunch before our mini-bus ride to Da Lat, arriving in time for dinner.
Day 3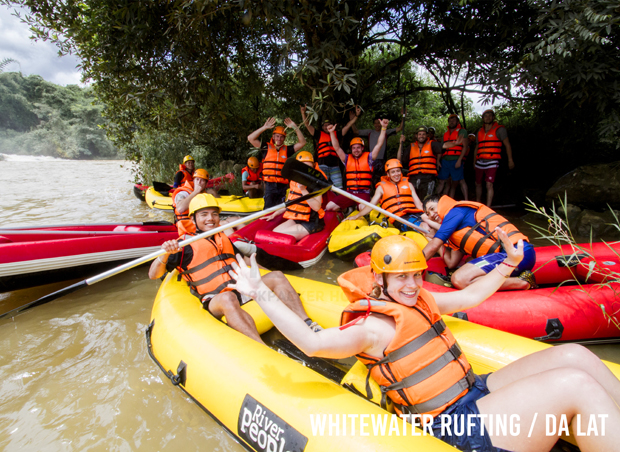 DALAT – WHITE WATER RAFTING
Strap in for some adventure with our professional white water rafting crew we head for the river for the necessary briefing before our guides take us for a thrilling adventure through the Dalat countryside. (White water rafting is not included in the price). Re-fuelling at a village restaurant, we then head for a coffee farm where we can taste the famed weasel (yes, we said weasel coffee) in front of panoramic views of the coffee fields. We have a chance to have a local dinner in Dalat and enjoy the town.
Day 4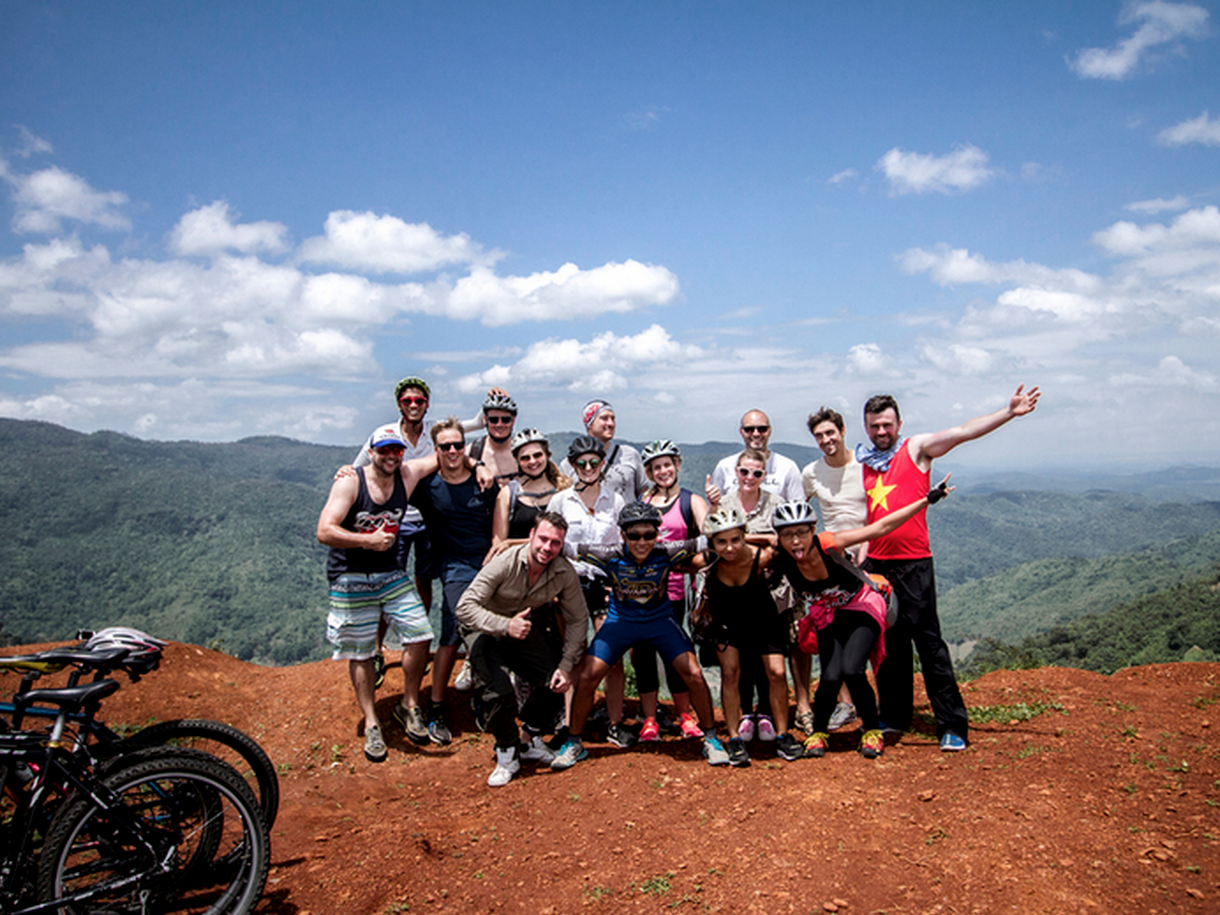 Day 4 – DALAT TO MUI NE
Dalat sits at an altitude of 1500 metres, while our destination today Mui Ne is at sea level. This provides plenty of opportunity to coast downhill on a bicycle on secondary roads, through jungles and rice fields. High-five village kids as we roll through, and take in some of the many photo opportunities as we come down the mountains. With full vehicle support we spend as much time in the saddle as we like. The more time in the saddle, the more we earn our beers around the pool this evening in Mui Ne.
Day 5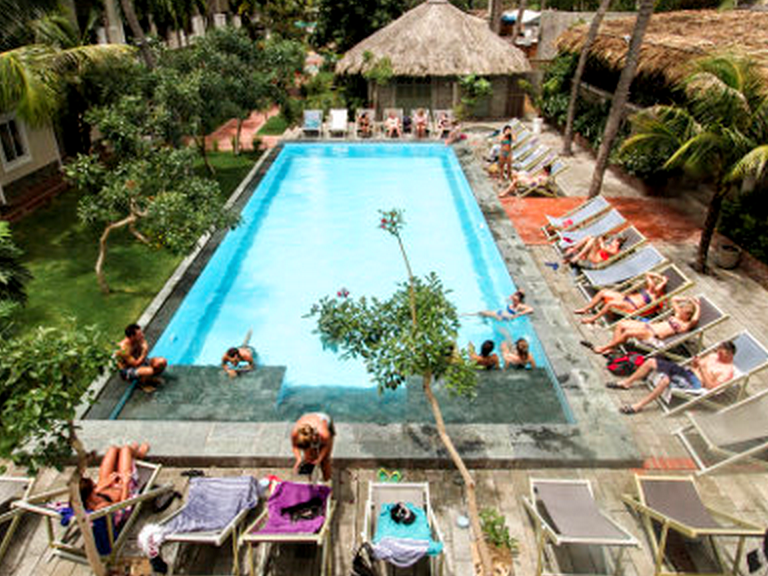 Day 5 – HO CHI MINH CITY
A lazy morning around the pool is welcomed before we head out to Ho Chi Minh City after lunch and arriving in time for a delicious Vietnamese dinner ready to kick into the electric nightlife of the city.
Day 6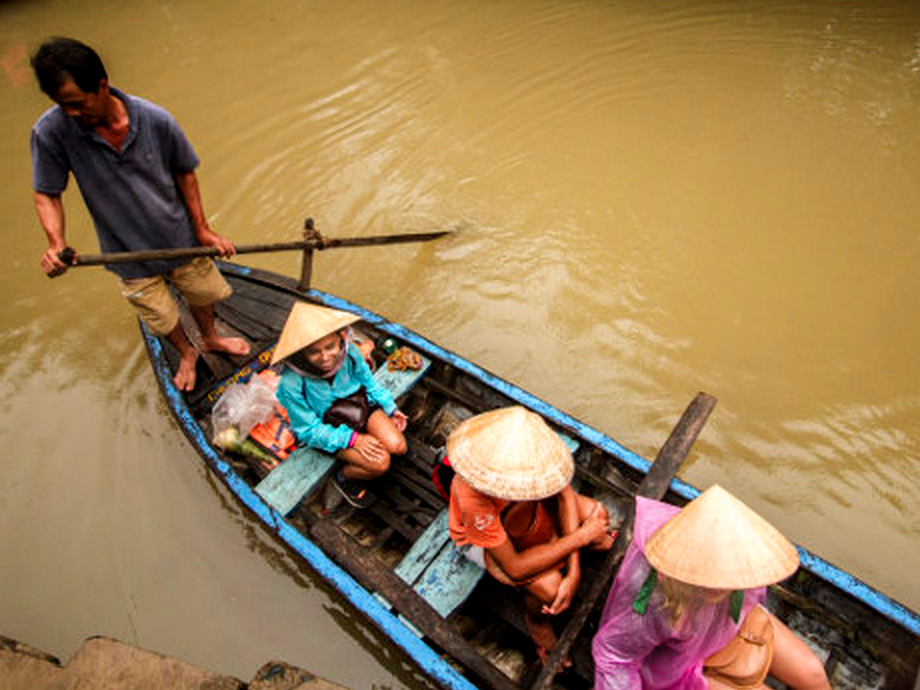 MEKONG DELTA
We head for the Mekong Delta, aptly known as Vietnam's food bowl. Today is all about food, we check out local fish farms and fish markets by boat, meet a local fruit farmer at his house where we can relax and enjoy some of the local fare. Check out the coconut farms and watch them make the famous local coconut candy (seriously addictive!). After lunch we take rowboats through narrow palm shrouded channels before returning to Ho Chi Minh City.
What's in it for you? 
What isn't included?

All your accommodation.
Almost all transport.
One of our awesome local guides.
Please check the itinerary for meals that are included.

Flight from Danang to Buon Ma Thuot – The flight is not included in the price of the trip. Flight prices vary depending on how far in advance you book, the earlier, the cheaper! We can assist with bookings as the last resort but better for you to book these directly with Vietnam Airlines website. (This is the only airline that flies this route.) (Approx. price between 50-80 USD per person) 
White Water Rafting.
International Flights.
Personal expenses, tips.
Beverages.
CONTACT US TO ASK A QUESTION HERE – OR RESERVE YOUR PLACE NOW!
WHAT TO BRING? Pack essentials, including light comfortable clothes suitable for outdoor activities, comfortable walking shoes. Take a small day pack for hiking and trekking. 
THE IMPORTANT STUFF:
CONDITIONS OF TRAVEL:
In circumstances beyond the control of Vietnam Backpacker Hostels and the associated tour operators, such as weather conditions, mechanical failure and/or restrictions placed by the National Park Authorities, we reserve the right to alter the route or itinerary of any of its tours and arrange alternative carriers to those advertised if necessary. NO refunds will be given in these circumstances, or in the event of any delay, curtailment or alteration of the trip. We can not guarantee pick-up or drop-off times and are not liable for passenger failure to connect with other services or any associated costs incurred.
LIABILITY: Whilst we make every effort to safeguard our clients and their belongings, we cannot be held responsible for personal injury or loss due to events, which are beyond our control.
IMPORTANT: Passengers should note that adventure travel involves a higher than normal risk.
TRAVEL INSURANCE: Travel insurance is NOT included; we strongly recommend that passengers have their own travel insurance against illness, injury, loss/damage to personal belongings and not being able to travel on the confirmed departure date. Check out our recommended provider here.
THE ESSENTIALS: Your passport, comfortable shoes/trainers, swim-stuff, towel, sunscreen, toiletries, rain coat, warm clothes for the cooler months (Nov – March), mosquito repellent, camera, some spending money and a flashlight. Also bring your appetite and a sense of humour!
HOW MUCH LUGGAGE CAN I TAKE? Your vehicle has limited space so please keep your luggage to a maximum of 15kgs in a backpack or soft overnight bag and include a small day pack to hand carry for easy access to camera, sunscreen, water etc.
WHERE DO I MEET THE TRIP? The trip departs from DKS House at 308 Nguyen Duy Hieu, Hoi An, Hanoi at 09:00. You must reconfirm your place on the trip the night before departure at the Travel Desk.
WHAT DO I EAT? Being in the Vietnamese countryside, it can be difficult to find places to eat that will please everyone, however our emphasis is on fresh food wherever possible. If you are vegetarian or do not eat seafood we can cater for you, but if you have very specific dietary needs you may need to provide your own food, please discuss this at time of booking.
HOW FIT DO I HAVE TO BE? This is an active trip so a reasonable level of fitness and swimming ability is needed. If you enjoy climbing through caves, swimming in beautiful jungle rivers or just being in pristine national parks and directly experiencing the environment then this trip is perfect for you. If you have any doubts about your suitability for this trip, please check with the Travel Team before making a booking.
NOTE: Activities vary in duration and grade depending on the availability.
DO I HAVE TO PARTICIPATE? Part of the enjoyment of our tours is bonding with a group of like-minded adventurers so we make them active and hands on. Full involvement is normally one of the highlights of the trip but no one will force you to do something you don't want to do.