SPECIAL! 20-Day Permaculture Design Certificate Course in India – November 2017 (IPC)
This Permaculture Design Certificate Course (PDC) is part of the 13th International Permaculture Convergence (IPC) in November 2017 and is hosted by Aranya Agricultural Alternatives. Happening in the year of the 30th anniversary of the first ever PDC in India that was conducted by Bill Mollison and Robyn Francis in 1987 at the University of Hyderabad, this course is a first of its kind, introducing a new, expanded course format over 20 days with a total of over 100 hours of curriculum and hands-on work. It brings together 120 students with facilitators and practitioners from India and all over the world.
The extended scope of the course allows participants to earn their PDC Certificate by fulfilling the international 72-hour standard curriculum, while additionally being able to focus on an elective thematic stream that delves deeper into specific applications of permaculture. Participants can choose from one out of four stream topics: Agriculture, Social Permaculture, Water and Earthworks, and Urban Permaculture. The extended schedule allows for enough time to cover the core curriculum and focus streams, as well as giving students time to work on a real-life design project in smaller groups.
In addition to regular plenary sessions with the whole course, most of the classes will take place in smaller groups of a maximum of 30 participants, divided into thematic batches. This will give the participants the benefit of working in smaller groups while still getting to interact with a large number of people from different backgrounds.
Hosted by Aranya Agricultural Alternatives, Narsanna & Padma Koppul,
November 3 – 22, 2017
Polam & Aranya Farms, Medak District, Telangana, India
Instructors:
Robyn Francis, Govinda Sharma, Clea Chandmal, Starhawk, Rico Zook, Jude Hobbs, Hui-i Chiang, Gopi Sankarasubramani, Roshan Rai, Narsanna Koppula, and local guest presenters
* Get hands-on experience on a young Permaculture farm *
* Meet peers and facilitators from all over the world *
* Learn from renowned permaculture practitioners & teachers *
* Contribute to the growing permaculture movement in India *
Permaculture Design Certificate Overview:
The course is is based on three ethics outlined in Mollison's first book, Permaculture One:
Earth care – protection of the living soil.
People care – looking after self, family and the wider community.
Fair share – sharing what we don't need with others.
The course is a mixture of theory taught in the classroom and hands on practical learning which will consist of traditional lectures, guest presentations, group discussions, games, exercises, photo shows, and movies. As well as designing landscapes, there will be a lot of discussion about 'invisible structures' of society, those social, cultural, political, and economic structures that shape much of our world today.
During the course you will get involved in a hands-on project, such as:
Greywater system construction, sheet mulching, compost pile building, spiral garden construction, solar hot water construction, seed ball making, harvesting Indigenous Micro‐Organisms (IMOs), i.e. local EMs, making bio‐preparations, natural organic pesticides and fertilisers, building a worm box, building a floating garden, roof top garden, building hanging planters with bamboo or plastic pipes, A‐frame construction, swale and/or terrace design and site mapping.
During the latter part of the course, in groups, the students will complete a real life design project of their own which is related to the site, and present their project to the rest of the group. This is where all of the knowledge that you have absorbed on the course is put into action and you see how much you have learnt!
The PDC certificate will provide you with enough knowledge to be able to practise as a Permaculture practitioner.
Who can attend this course?
This course is a learning opportunity for anyone with a keen interest in designing regenerative systems. Prior experience in permaculture is not required. If you do have some knowledge and experience in permaculture, sustainable farming or related areas, this course will be a great opportunity for deepening that knowledge and adding to it the skill of thinking from a designer's point of view. With its comprehensive curriculum, this PDC will give you a great toolkit for making sure you don't miss any important aspects of a system that you're designing.
If you have already completed a PDC and are interested in sharing and teaching permaculture, do take a look at our Teacher Training course offered just before this PDC from 22nd to 29th October 2017.
We are also looking for mid-term volunteers to help with the preparations for this PDC. If you are enthusiastic about permaculture and have experience with event management, project management or advertising & social media marketing, please contact Nina on ipcpdc2017 [at] gmail [dot] com.
What will you get out of this course?
During the 20-day course, you will get a chance to:
Interact and network with participants and experienced instructors from all over the world;
Receive a toolkit of comprehensive course materials covering all the different areas of permaculture design (printed playbook and digital files);
Gain an understanding of the principles of permaculture design, an in-depth introduction into the thematic stream of your choice, with hands-on projects specific to your stream;
Work together in a small group on a design project that you will present at the end of the course;
Receive an internationally recognized PDC Certificate with an emphasis on the stream of your choice upon completion of the course curriculum and the group design work;
Course Curriculum:
Course Topics:
Permaculture principles, ethics, design methodologies, and pathways to sustainability
Patterns and processes in nature, biome approach to sustainable management, essential earth systems science and understanding global climate influences
Soil ecology, organic soil management, mulches and compost
Water management planning, collection, storage and conservation, earthworks and aquaculture
Forest ecosystems and design of forests for food, forage, fibre, structural materials, habitat, conservation, wildlife, tree-cropping and farm forestry
Food producing systems for home gardens, small holdings, urban systems to broad acre farmlands
Design to reduce vulnerability to fire, drought, natural hazards and impacts of climate change
Appropriate technology, renewable energy systems, and passive solar house design
Bioregional and community development strategies, urban renewal, eco-village design, community economics, legal structures, community gardens and city farms
Skills & Knowledge:
Integrated approach to earth systems science, working with ecological processes and planetary life sustaining systems
Practical design for low energy productive urban and rural environments: domestic to broad-scale
Holistic approach to sustainable land use planning, conservation and resource management
Creative problem solving and participatory processes to facilitate positive change
Tools for community building, bioregional sustainability and transition initiatives
Strategies for individual, enterprise and community response to peak oil, climate change, globalisation and challenges of the 21st century.
Thematic Streams
In addition to covering the international 72-hour PDC core curriculum, as agreed upon by permaculture associations in different parts of the world, participants get to spend an additional 15 to 20 hours to focus on one of the four thematic streams:
Agriculture: Govinda Sharma & Clea Chandmal
Earthworks and Water: Gopi Sankarasubramani, Rico Zook and Narsanna Koppula
Social Permaculture: Robyn Francis, Starhawk & Roshan Rai
Urban Permaculture: Jude Hobbs & Hui-i Chiang
The focus on a thematic stream allows you to deepen your understanding of a particular area of applied permaculture that interests you. Streams will be filled on a first come, first serve basis.
(PLEASE NOTE: While we will try to accommodate everyone's preferences as best as we can, but we cannot guarantee that you will get into your first choice of stream.)
More specific stream descriptions and details will be provided here soon.
Hands-On Learning
The course venue is Polam farm, a large farm in rural Telangana that is currently being developed into a permaculture farm. This gives participants an opportunity to work on a real-life design and implement some design elements right away during the course. Practical sessions and demonstrations give participants a chance for hands-on learning. The farm setting offers an ideal playground for this. Participants will get an opportunity to work on hands-on projects that will benefit the farm.
The course will include a visit to Aranya farm, a 15-year-old permaculture farm with a broad scope to learn from existing structures and practices. It also provides an opportunity to practically implement earthworks and other permaculture practices in the surrounding community farm lands. For instance, as part of each PDC course hosted by Aranya Agricultural Alternatives, one acre of farmland is developed as our contribution to the community. At the same time it provides a learning opportunity for the course participants.
In smaller groups, participants will work on a stream-specific design project of a real-life permaculture design. Each design team will present their work at the end of the course. The finished designs will be left with the farm or other clients as resources. In the past, PDC host sites have implemented many aspects of the designs and sometimes even full designs.
Registration and Course Pricing Options
The course fee includes all meals, the option to camp in your own tent, course materials (digital and print) and your Permaculture Design Certificate. The fee EXCLUDES rented accommodation, please see next section. We strongly encourage those who are financially comfortable to pay the support rate which will enable us to subsidize a reduced rate for those who would not otherwise be able to participate. Any profits from this course will be donated to IPC India 2017.
Support rate: USD 1,700
Standard rate: USD 1,400
Reduced rate: USD 600
The reduced rate is offered to make the PDC course accessible to enthusiastic participants from economically challenged backgrounds. Preference will be given to Indians, though all people are eligible, especially those from the global south.
Participants who are elderly and/ or have special requirements, please contact Nina on ipcpdc2017 [at] gmail [dot] com about your accommodation before registering.
Daily Schedule & Other Information:
The below schedule is tentative; the final schedule will be posted here before registrations open. The final schedule may also be subject to change as appropriate during the course and we ask participants to be flexible. Participants will be expected to adhere closely to the class timings to ensure a smooth running of the course and avoid unnecessary frustration.
| | |
| --- | --- |
| 6:30 | Optional morning practice (e.g. yoga) |
| 7:30 | Breakfast |
| 8:30 | Check-in with the group and energizer |
| 9:30-12:30 | Classes with tea break |
| 12:30 | Lunch break |
| 14:00-19:00 | Classes with tea & snack breaks |
| 19:00 | Dinner |
| 20:00 | Optional class, presentation or film (on selected days) |
Days 7 and 13 are free days which participants can use to rest or work on their group projects.
Location & Logistics
Polam farm is located in rural Telangana, about 2.5 hours (110 km) from Hyderabad in Raipad village. We will arrange a bus transfer to the farm from Hyderabad city on the first day of the course, November 3rd. We strongly recommend that all participants plan to arrive in Hyderabad no later than November 2nd. If you miss this bus, you will be responsible for getting to the venue on your own.
More detailed information, directions and a detailed list with things to bring will be sent to registered participants along with their registration confirmation.
In the week after the PDC, Polam farm will be the venue for IPC India 2017. We are currently looking at the possibility of offering extended stay options for those wanting to stay on the farm after the course.
Accommodation & Facilities
Your own tent (no extra cost)
Rented tent small, single occupancy: INR 4,000 (USD 60) (limited availability!)
Rented tent large, single occupancy: INR 15,000 (USD 220)
Rented tent, double sharing: INR 8,500 (USD 125)
Rented tent, triple sharing: INR 5000 (USD 75)
Rented tent, four sharing: INR 3,000 (USD 50)
Polam Farm is a new and growing permaculture site. Many of the facilities will be used for the first time during our course. Be aware that this will not be a fancy hotel, nor an urban setting. The facilities will be basic. While we will work hard to keep all facilities clean, everyone in the course will be expected to co-operate and do their bit in keeping the premises clean. With over 160 people on site (participants, teaching team, teaching assistants and support staff) everyone's contribution will be critical for keeping the site clean.
Food
Participants can choose between non-vegetarian, vegetarian, and vegan food. Please let us know of any allergies, intolerances or other special dietary requirements upon registration. We will try to grow as much of the provisions at the location as possible. When sourcing off site, we will try to get organically grown products as much as possible.
Climate
The climate in Telangana in November is generally warm and pleasant. Nights can be cool (long pants and a warm jumper/ light jacket). In cold nights in November, temperatures can go down to 14° C (57 Fahrenheit), and on hot days up to 32° C (90 Fahrenheit).
Who are the Instructors?
This PDC course will be taught by a team of experienced permaculture instructors and practitioners from all around the world.
In addition to the instructors listed below, guest presenters (to be announced soon) will bring an exciting variety of backgrounds, skills, experiences and perspectives to the course. We are currently still looking for an Urban Stream instructor from India, preferably a woman. If you have strong experience in urban sustainability and are interested in this opportunity, please write to Nina on ipcpdc2017 [at] gmail [dot] com.
Robyn Francis (Australia) – Lead Instructor, PDC Core Curriculum & Social Permaculture Stream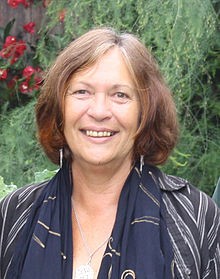 Robyn Francis is an award-winning international permaculture pioneer, designer, educator, presenter, innovator and founder of Permaculture College Australia.
Robyn has worked in Permaculture since 1983 throughout Australia and overseas in diverse cultures and climates, rural and urban. As the founding director of Permaculture International Ltd (PIL) in 1987, designer and creator of Djanbung Gardens, Australia's leading permaculture centre, and a key instigator of the nationally accredited vocational qualifications in permaculture in Australia, she is committed to improving the quality of permaculture training.
Robyn is a passionate facilitator and educator, dedicated to empowering people to be effective agents of change through her PDCs and professional development for permaculture teachers, designers, and community activists. She has taught over 140 PDCs and over a hundred advanced courses, including the first PDC in India with Bill Mollison in 1987. Her students include some of permaculture's leading teachers and activists.
www.permaculture.com.au
www.permacultureaustralia.org.au
Rico Zook (USA) – PDC Core Curriculum & Earthworks and Water Stream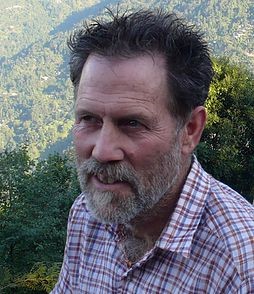 For the past 20 years, Rico has been a Permaculture designer, consultant and educator. He has worked with private individuals, farmers, villagers and local organizations in India, Cambodia, northern New Mexico, the middle-east and other parts of the world. His work focuses on assisting all levels of the global community to create culturally and environmentally appropriate life systems that are resilient and regenerative.
Rico has also worked with local and indigenous cultures to help preserve traditional knowledge and technologies while adapting to, and becoming active members of, our rapidly globalizing world. With work in different climates and cultures, Rico has established himself as one of the new leaders and innovators in permaculture worldwide. This is further supported by his work with global permaculture organizations organizing the International Permaculture Convergence.
www.i-permaculture.org
www.permacultureintl.com
Clea Chandmal (India) – PDC Core Curriculum & Agriculture Stream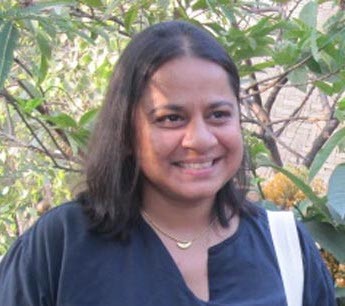 Clea Chandmal studied biological sciences at University of Cambridge, UK. She did her PDC with Bill Mollison, Geoff Lawton and Greg Knibbs in Melbourne in 2008. She currently consults and runs a farm in Goa, implementing good permaculture practices to dramatic effect. She has given a TED-x Talk entitled "Permaculture – From Farm to Forest."
https://permacultureglobal.org/users/50-clea-chandmal
https://www.youtube.com/watch?v=KI3haUOkP-I
Govinda Sharma (Nepal) – PDC Core Curriculum & Agriculture Stream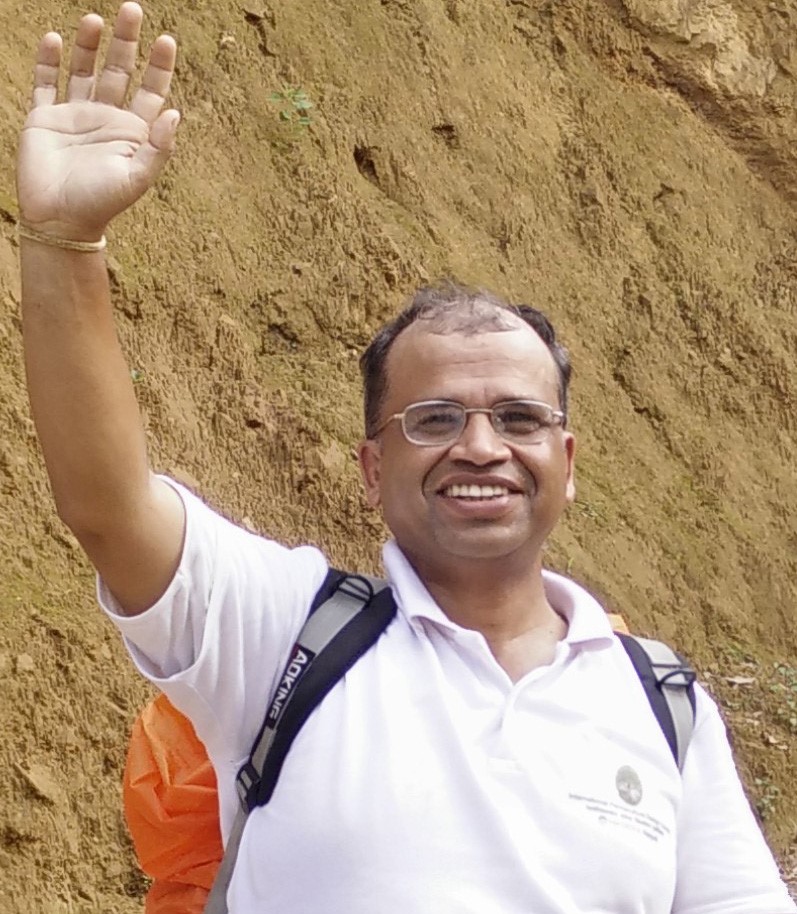 Govinda Sharma has been practising and teaching permaculture since 1992 and has facilitated over 43 PDCs and 575 other short courses in various aspects of Permaculture in Nepal and abroad, and his trainings have included participants from almost 76 countries. He has a Masters Degree in Ecological Agriculture and has worked with farmers all over Nepal and in countries like Austria, Japan, Malawi, India, Qatar and France.
He is the Managing Director of Organic Certification Nepal (OCN) and founder of HASERA Organic Farm, a Research and Training Centre dedicated to the promotion of Sustainable Agriculture, Sustainable Development, and Permaculture. He has written or edited 13 important books and proceedings in the field of permaculture.
Gopi Sankarasubramani (India) – Earthworks and Water Stream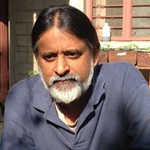 Gopi Sankara is a farmer and trustee at Navadarshanam. Over the last 25 years, Navadarshanam has been experimenting and demonstrating sustainable alternatives in energy, buildings, water, farming and rural livelihood within a broader frame of ecological and spiritual regeneration. Navadarshanam also supports a food co-operative with predominantly women members operated by the villagers of Ganganahalli with dual aims of providing sustainably grown, healthier traditional food options for urban consumers and supporting rural livelihoods and rural producers of food.
An aerospace engineer from IIT, Gopi was a technologist based in California for over 20 years. While living in California, he left the technology industry to explore his life-long passion of growing food and leading a simple life. He worked on farms in the US and formally studied permaculture and sustainable farming practices.
Narsanna Koppula (India) – Earthworks and Water Stream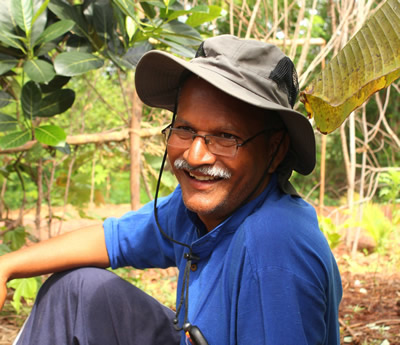 Narsanna Koppula is a permaculture pioneer in India. A lover of nature and environment, he was among the first Indians trained by Bill Mollison in the 1980s. With his mentor, Late Dr. Venkat, who has been his constant source of inspiration, they created the first permaculture farms in India and formed Permaculture Farmers Group across the country.
He founded Aranya Agricultural Alternatives with his wife, Padma, in 1999 with the aim to advocate permaculture principles and practices in India as well as all over the world. They continuously work with farmers in the states of Telangana and Andhra Pradesh with the goal to empower rural communities through the teaching of natural resource management and permaculture design. A highly energetic teacher on the field, Narsanna has a wealth of knowledge on traditional Indian agricultural practices and he is extremely passionate about disseminating this knowledge to his students and farmers.
www.permacultureindia.org
Starhawk (USA) – Social Permaculture Stream
Starhawk is the author or co-author of thirteen books on earth-based spirituality and activism, including the classics The Spiral Dance, her visionary novel The Fifth Sacred Thing and its long-awaited sequel, City of Refuge. Her 2011 book, The Empowerment Manual: A Guide for Collaborative Groups focuses on patterns of organizing and power that create healthy, nurturing organizations. Starhawk directs Earth Activist Trainings, teaching permaculture design grounded in spirit and with a focus on organizing, activism, and Social Permaculture.
She has twenty years of experience teaching and practising permaculture in the US and internationally, and developing a regenerative, carbon-sequestering model on her own ranch in Northern California.
www.earthactivisttraining.org/
http://starhawk.org
Roshan P. Rai (India) – Social Permaculture Stream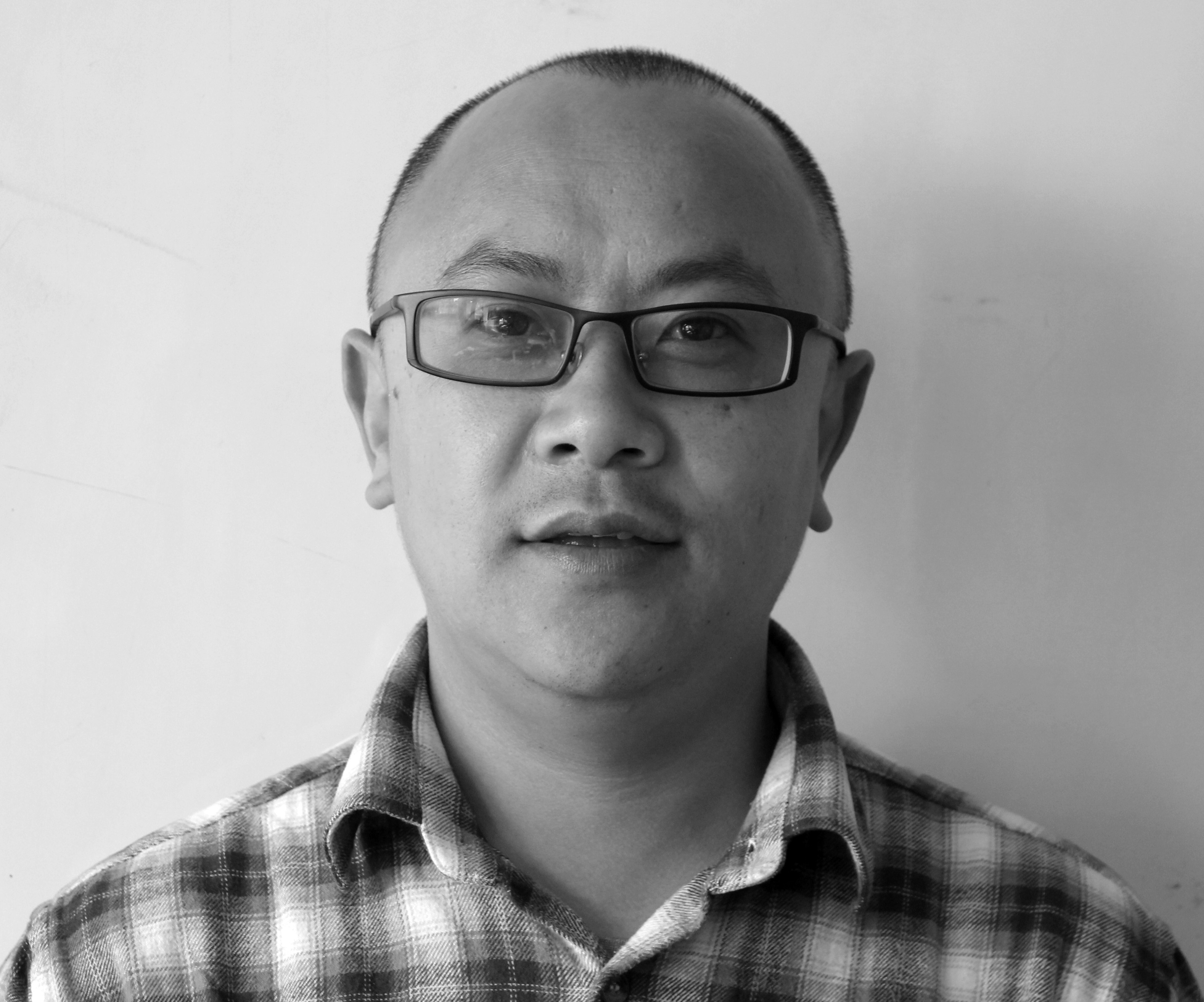 Roshan P. Rai is a development practitioner with DLR Prerna, a Darjeeling-based NGO since 1996. He works on issues of environment and social equity in the Darjeeling Himalaya. Partnering with marginal communities, models have been initiated resulting in seminal experiences like Darjeeling's first small farmer organic and fair-trade collective Mineral Springs Sanjukta Vikash Sanstha.
With special interest on participatory governance, his intervention has revolved around inclusions in fair-trade movements in tea, conservation efforts, small farmer collectives, traditional community based organisations and NGOs. He works on waste with Zero Waste Himalaya. In recent years he has been focusing on local food cultures, water and communities, and climate change. Roshan engages at a landscape and policy level through his writings, educational institutions and platforms like Integrated Himalayan Initiative, India.
Jude Hobbs (USA) – Urban Permaculture Stream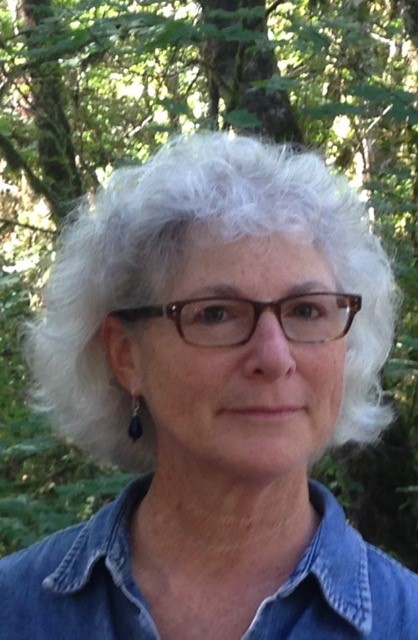 Jude Hobbs is a permaculture educator, designer, and land consultant. Drawing upon over 30 years' experience in utilizing whole-system design techniques, she provides environmentally sound solutions in urban and rural settings, which promotes sustainable actions.
Through her business, Agro-Ecology Northwest, Jude specializes in designing urban and farm management practices that optimize water storage systems, soil enhancement techniques, biodiversity, resource conservation and income diversification. As an educator, she brings her passion for permaculture to her courses by developing curricula that encompass diverse learning styles and methods that are inspiring and rich in information. Jude's intention is to empower people to creatively change their everyday patterns so as to care for the earth and each other.
As a co-founder of the Permaculture Institute of North America (PINA) she actively supports the next generation of permaculture trainers through continuing education and professional development.
Jude co-tends Wilson Creek Gardens a 7-acre permaculture demonstration site in Cottage Grove, Oregon where there are abundant micro-climates from which to learn.
http://permaculturenorthamerica.org
www.cascadiapermaculture.com
Hui-i Chiang (Taiwan) – Urban Permaculture Stream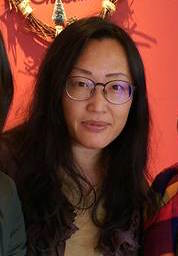 Hui-i Chiang is a leading environmental education and permaculture pioneer in Taiwan. She is the founder of Earth Passengers, which has organized Taiwan's first environmental education leadership trainings and permaculture courses. During the past two decades, she has focused on energy education, redesigning cities for resilience and food production, and developing appropriate technology.
She is active in East Asia environmental networks and has been a consultant for community development, train-the-trainers initiatives, school garden projects and rural revitalization projects in Taiwan and China. Together with her colleagues, Hui-i is now developing a permaculture learning center on the east coast of Taiwan and is currently organizing community projects including a seed library, a local market, a local skill-sharing project, and a women farmers' cooperative.
She regularly teaches permaculture workshops and PDCs in Taiwan and China. Hui-i is the co-author of "Design for Life," (向大自然學設計) the first permaculture book in the Chinese-speaking world, based on local permaculture practices and experiences.
http://earthpassengers.org