A Caribbean Retreat: 10 Days in Costa Rica and Panama
This chilled out 10-day trip is all about the Caribbean vibe: white-sand beaches, reggae music, hammock siestas and serene turquoise water. We journey down to the Rastafarian town of Puerto Viejo in Costa Rica by rafting down the extravagant Rio Pacuare, named 1 of the 5 most beautiful rivers in the world by National Geographic! We then settle in the wonderland of Bocas del Toro in Panama to experience everything that the Caribbean has to offer. There's a very cool mixture of Latin and Creole culture present in this region and English-speaking locals give you a break from practicing your Spanish to joke about with the people here. There's also some stellar diving and snorkeling in the unbelievably clear water, as well as very underrated waves for surfing on the picturesque Caribbean beaches. And no trip through the Caribbean is complete without hopping on a yacht and gliding across the crystal waters with a beverage of your choice in hand and your entire Free & Easy group around you!
DATES (2016)
JUL 09 2016 – JUL 19 2016
DEC 03 2016 – DEC 13 2016
DATES (2017)
JAN 16 2017 – JAN 26 2017
MAR 02 2017 – MAR 12 2017
APR 10 2017 – APR 20 2017
MAY 10 2017 – MAY 20 2017
JUL 09 2017 – JUL 19 2017
Day 1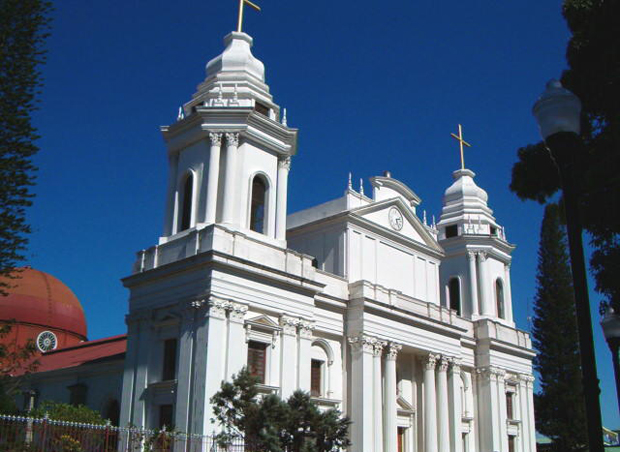 Alajuela, San José: Group flights arrive in to San Jose, stay at nearby Alajuela Backpacker's and get to know your new travel family over cold beers and pizza!
Day 2-5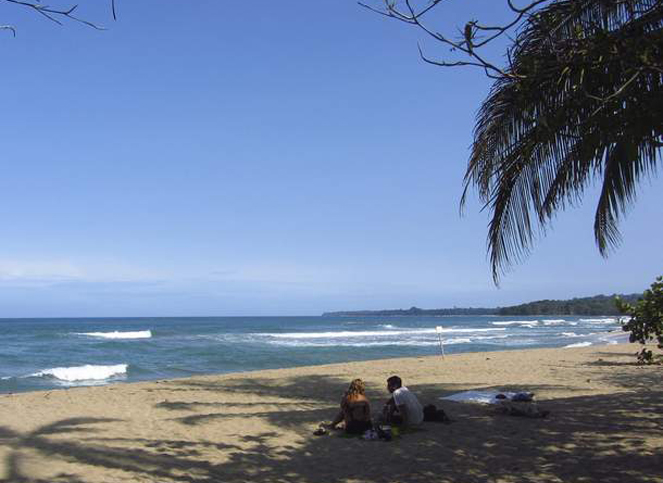 Puerto Viejo, Costa Rica: 
Early morning departure for white water rafting on Costa Rica's infamous Rio Pacuare (includes buffet breakfast and lunch in the jungle, whole trip covered by FNEZ). Continue on a coaster bus (AC) and arrive in the late afternoon into the rasta Caribbean town of Puerto Viejo. Spend the following days with optional activities like our FNEZ beach bicycle parade, waterfall day trip, Jaguar Rescue Centre tour and the infamous Tasty Tuesday Party with our good friends at Tasty Waves Cantina!
About Puerto Viejo: Puerto Viejo may be in Costa Rica, but it is definitely a Caribbean town first and a part of Costa Rica second as Afro-Caribbean culture dominates here. Reggae music and a nice smelling smoke comes out of virtually every door you'll pass as you cruise down this one-road town on a sweet cruiser bicycle. Adding to its Caribbean feel is several spectacular beaches, amazing food, wicked surfing and an overall chilled out attitude that could make even the most high strung individual relax and take life 'free and easy'. A pretty rowdy late night scene may keep you up late here enjoying the party, but come morning you'll want to spring right up and forget about being hungover to ensure you get a good look at the miles of pristine Caribbean beach surrounding this awesome town!
Day 6-9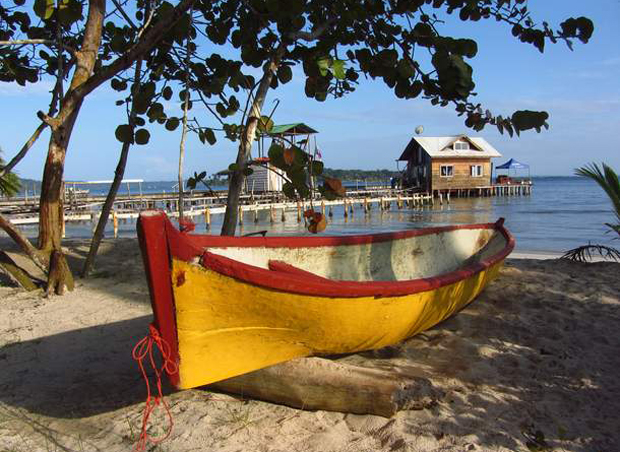 Bocas del Toro, Panama: 
Take a short shuttle to the Costa Rica border, cross into Panama! Take another shuttle and then a speedboat to the islands of Bocas Del Toro and stay overtop the water at our guesthouse. Spend the following days with optional activities like coral surfing (under sea deep boarding), snorkeling, surfing, fishing, a catamaran booze cruise or exploring and shopping around the funky vibes of Bocas Town.
About Bocas del Toro: Bocas del Toro consists of six Caribbean islands just 32 km from the Costa Rican border in Panama, and between those six islands and the clear turquoise water that separates them there is a wonderland of beauty and activity to behold. Life in Bocas provides everything from stunning Caribbean white-sand beaches to wondrous snorkelling and diving opportunities through pristine reefs to awesome surfing on surreal Caribbean breaks to just hanging out on a yacht, casting out a fishing line out and sipping your drink. And the vibe in Bocas is very much Caribbean, with some delicious local cuisine and the overall laid-back Rasta vibe felt throughout the islands. Plus Panama's insanely cheap beer and rum has created in Bocas one of the wildest party scenes in Central America!
Day 10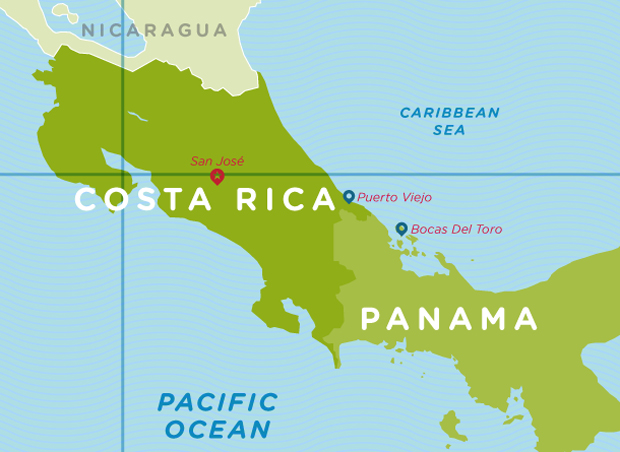 Take a speedboat back to mainland, shuttle to the Costa Rica border and shuttle to a lunch spot along the Caribbean coastline. Continue on via a coaster bus (AC) to Alajuela Backpackers where you can laugh about your adventure with your new best friends over cold beer, rum and pizza! 

Pura Vida!
Please note: The above itinerary is subject to change. A confirmed Free & Easy trip itinerary with exact routing will be provided at least 30 days prior to trip departure. 
To live Free and Easy is to live without busy, rigid schedules. Each destination provides some amazing activities, but we make sure that free time is there so you can take part in all of them or none of them, do as much or as little as you want. 'Take time, breathe it all in, no rush!'
Adventures you can have on this trip!
SURF A WAVE (Included in the price)
Nothing compares to the feeling you get the first time you paddle into a wave, stand up as it breaks and ride the face of it – this is the incomparable feeling of surfing. When you get it right, you'll know, because you'll be more excited than the first time you had sex and probably more addicted to it, too! Surfing is arguably the most challenging sport in the world and requires you to learn much more than physical coordination. In order to surf a wave, you'll need patience, discipline, a lack of fear and an insatiable urge to have fun. It's no coincidence that 7 of the countries that we run trips to (Indonesia, the Philippines, Nicaragua, Costa Rica, Peru, Panama & South Africa) have wicked surf scenes, because there's nothing quite like it.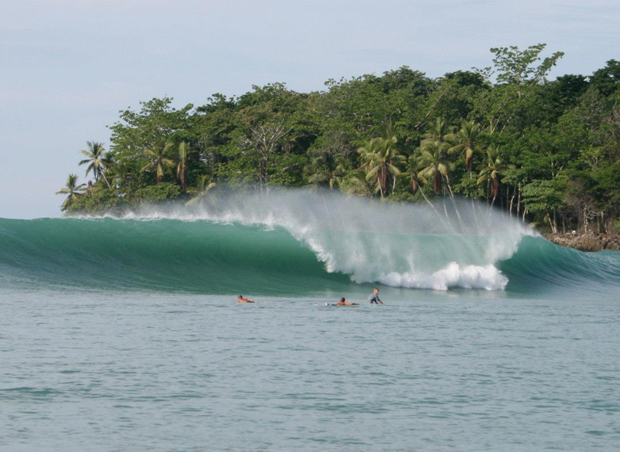 WHITE WATER RAFTING (Included in the price)
Traveling by river can be a fun way to travel and see the surrounding nature, and if that river happens to be very fast and rapid and you're flying down it on an inflatable raft then it's so fun that it's better than any ride you've ever been on at an amusement park! Whitewater rafting down a river is a thrilling activity, and when you do it in a tropical setting it's also warm, exotic and encompassed by beautiful and lush jungle vegetation and waterfalls pouring right into the river. The Rio Pacuare in Costa Rica is where we experience this thrill and it's an absolutely surreal setting, named 1 of the 5 most beautiful rivers in the world by National Geographic, rafting down this river will make you feel like you're flying right through the rapids of Jurassic Park!
GO SCUBA DIVING (Not included in the price)
Diving is like no other experience on Earth. Life under the water is silent and peaceful, everything is flowing and moving in a way that we land creatures are unaccustomed to. Despite all of our high tech equipment, we are extremely out of our element in the water and it is a humbling experience to watch and observe what life is like under the sea. Fish come in all shapes, sizes and colours and move together in a harmonious unison through beautiful coral and twisted sunlight. On our trips, scuba diving is a huge activity as we travel to countries that offer some of the best diving in the world. The Caribbean in Central America possesses the second largest reef in the world, the warm waters of the South Pacific in Southeast Asia are home to the largest diversity of sea-life in the world and the seas of the Mediterranean are full of rich history and beauty. There is a whole universe under the ocean and experiencing what's it like to be in it is a must at least once in your life!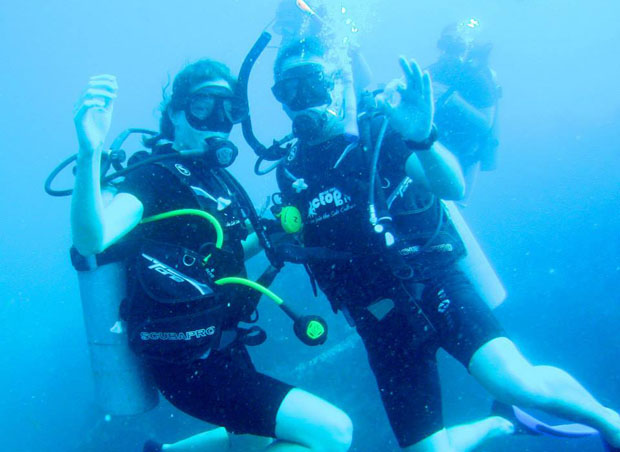 SAIL THROUGH THE CARIBBEAN (Not included in the price)
The Caribbean Sea is famed for its calm, tropical waters and its thousands of pristine islands that have come to be known as the picture of paradise. And the best way to explore this beautiful sea and its many islands is by gliding along it smoothly and calmly on a sailboat. You can pretty much take your pick for where to begin and where to drop anchor when sailing though the Caribbean but our chosen spot for this experience is Bocas del Toro in Panama, an archipelago made up of several islands that provide plenty of beauty to be explored in and around each one. Loading up on a sailboat with your group, a fully stocked cooler, snorkel gear, fishing rods and any other necessary supplies is one of, if not the best way to spend your days here and we definitely do plenty of sailing when we are in Bocas del Toro.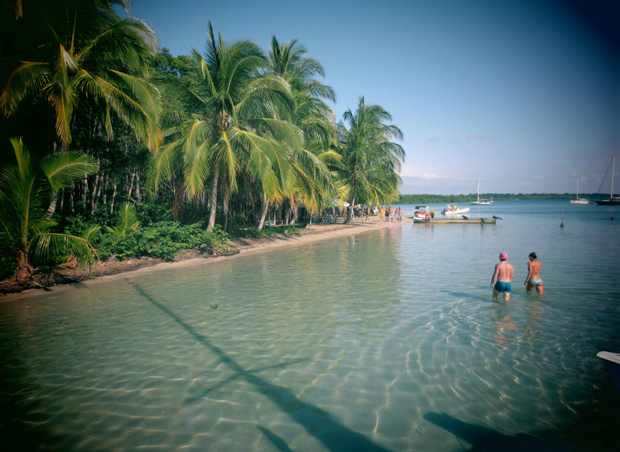 FLY UNDER WATER (Not included in the price)
Ever wonder what it would be like to be able to swim under water like a dolphin or a shark, moving at high speed, gliding up and down and moving with ease and being able to see all the splendour of life in the sea? Well, you can! It's being called Coral Surfing and it's a wicked new experience being offered that seems to have been pulled right from a video game or some kind of virtual simulator, but it's real and it's unbelievably cool and fun! What you do is you hold onto a set of carbon fins that is pulled by a boat, the fins act as wings under the water and allow you to dive up and down with speed simply by tilting your wrist. You can even use the wings interchangeably to perform spins! The whole experience is beyond surreal and to add to it all you're flying through the clear, turquoise water over pristine coral and lush reefs that provide constant visual wonder.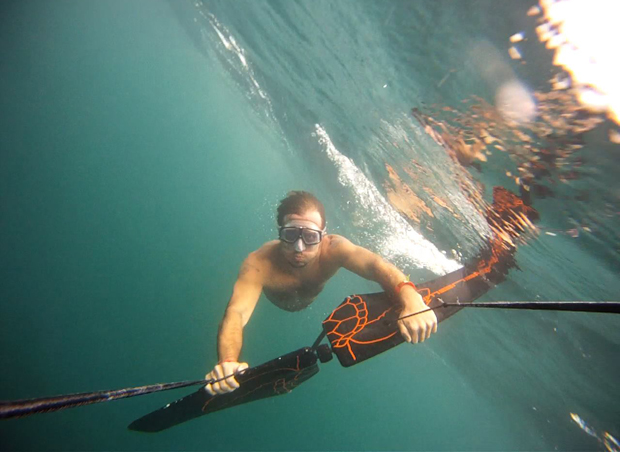 CATCH A FISH AND EAT IT, TOO (Not included in the price)
We get so many people who come on our trips that say they don't like seafood and won't eat it – usually, they're not from a coastal town. So when we serve up a fresh barracuda or tuna or some other tasty fish that the fisherman caught that morning and we convince them to give it a try, the first thing they say (with a satisfied smile) is that this doesn't taste like the seafood they've tried. There's just no getting around it, fish is meant to be eaten fresh! And the only thing tastier than a fresh fish is one that you caught, too! Catching the fish that you eat used to be a part of life and still is in many parts of the world, however, more and more people are buying from the commercial fishing industry which is unsustainable and is destroying the ocean's eco-system. We offer the option to go fishing on nearly all of our trips with friendly, local fisherman that show you their tricks – it's an experience that not only teaches you the importance of fishing but is also a hell of a good time: on a boat, with friends, with beer, in the sun, drifting down a tropical coastline… 'nuff said!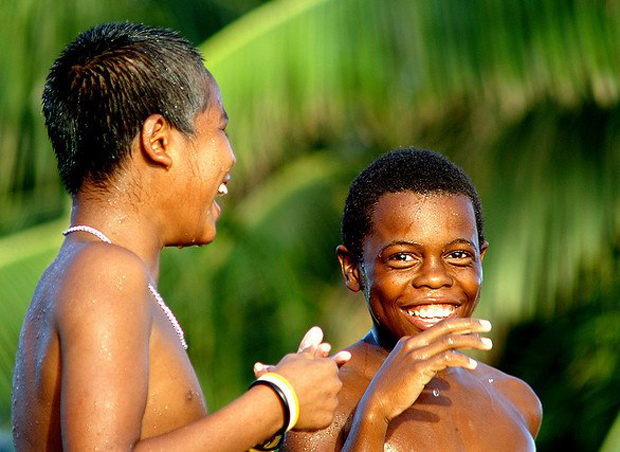 CARIBBEAN BICYCLE PARADE (Included in the price)
What better way to beach-hop than cruising with 20 of your new best friends on a retro bicycle along the Caribbean coast? Throw in a couple bar stops scattered along the palm tree dotted coastline of Puerto Viejo with its chill reggae vibes and you'll see why our infamous Free and Easy Caribbean Bicycle Parade has been a staple and highlight on our Costa Rica/ Panama trip since we started it! Don't forget some pirate gear! (Free tour via your trip leaders and only $5 a day for a bicycle rental – don't forget to hold onto your bike an extra day if you're wanting to visit the Jaguar Rescue Centre!)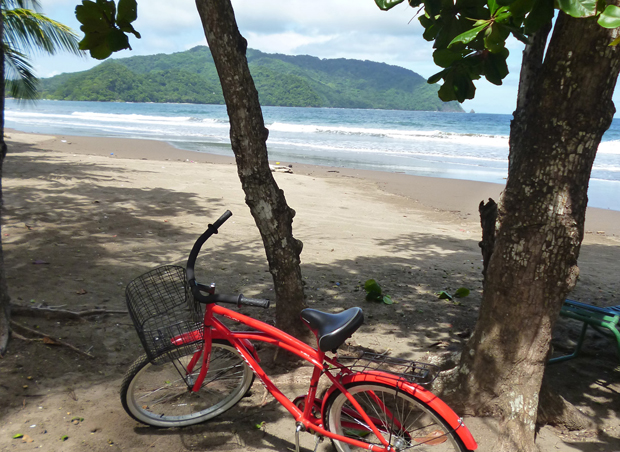 PUERTO VIEJO WATERFALL TOUR (Included in the price)
Follow the trip leaders for a free tour and hike to a local waterfall in Bri Bri aboriginal territory. There's no better way to escape the Costa Rican heat than finding yourself under the lush jungle canopy and jumping into the fresh waters of the rainforest. Shuttle bus and tour included in your trip price!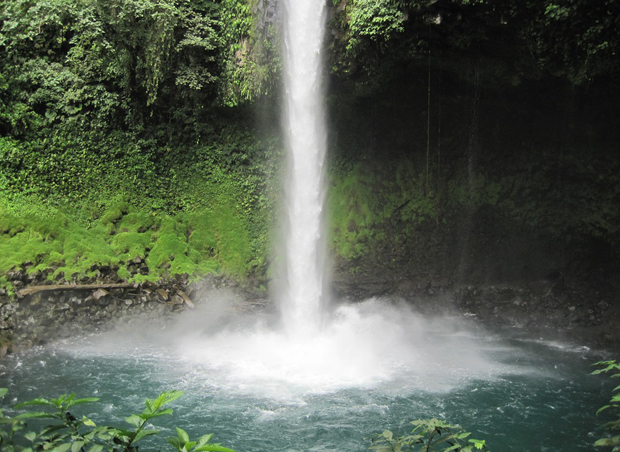 TASTY TUESDAY FIESTA AT TASTY WAVES CANTINA! (Included in the price)
it's the most notorious party in the Caribbean, and Free and Easy Traveler has been teaming up with Tasty Waves Cantina since its inception! Get ready for some serious tropical vibes, reggae ton music, and partying with the local rastas all Tuesday night. Complete with a massive bonfire, street food, Free and Easy drink discounts and the best surprise to ring in midnight…it's the best party in Puerto Viejo!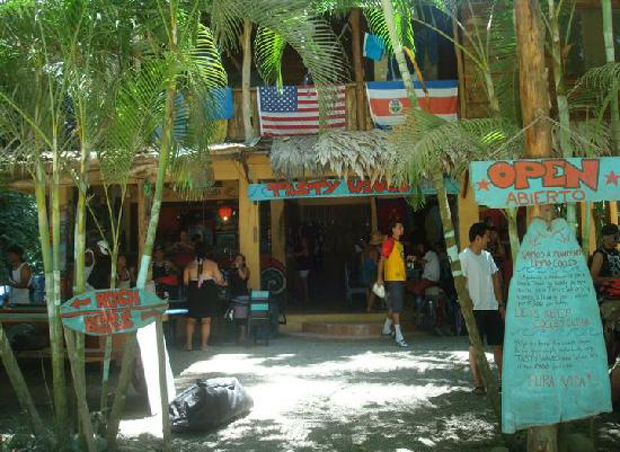 BEACH CLEANUP (Included in the price)
Our Trash Hero beach cleanups are a great way to do good, feel good, and get some beach all at the same time. With thousands of tons of trash swirling around the oceans, the unfortunate reality is that some of it washes up onto the beautiful beaches we fall in love with around the world. So we thought 'Let's do something about this!' Our partnership with Trash Hero began in Koh Lipe, Thailand, where they regularly organized beach cleanup days. Today, Trash Hero has gone viral and can be found operating in Thailand and Indonesia, and is spreading into dozens more countries at a rapid pace. On our end, beach cleanup day quickly became one of the most fun and rewarding days on our Thailand trip. So we decided to spread the love, and have instituted a beach cleanup day into our regular itineraries across the world. Through our sponsorship and partnership with Trash Hero, our travellers and others like them have since collected tens of thousands of kilograms of trash from the beaches we travel to…and really, there's nothing more epic than saving the world!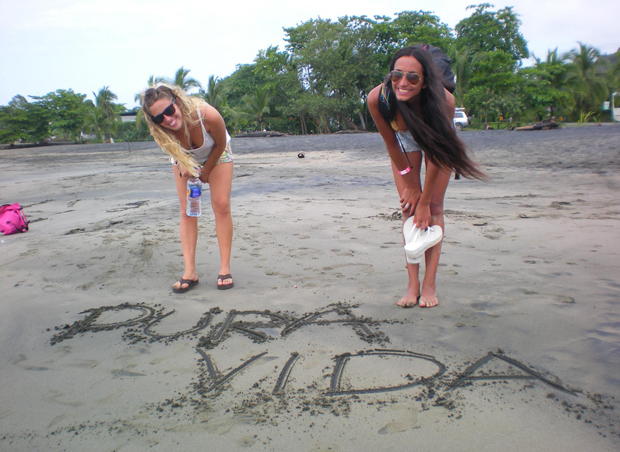 WHAT'S INCLUDED IN THIS ADVENTURE
ACCOMMODATION (CENTRAL TRIPS)
Accommodation for the duration of your Free & Easy experience
Rooms will be a mixture of 2-6 person rooms throughout the trip
TRANSPORTATION
All group travel between destinations
Return international flights and airport transfers*** (No surprise extra flight surcharges)
***Land Package prices do not include your international flight, airport taxes or transfers
LEADERS
2 knowledgable and fun Free & Easy leaders
15 years of trip leading experience
No commissions or gratuities required or accepted… ever!
Preparations guidebook
Trip Experience guidebook
MEALS: COSTA RICA & PANAMA (10 DAYS)
Buffet breakfast and lunch during White Water Rafting day trip
ACTIVITIES: COSTA RICA & PANAMA (10 DAYS)
Paradise Islands in Panama
White Water Rafting down the Pacuare River
Surf Breaks along the Caribbean Coast
One surf lesson and 1 day board rental
Carribean bicycle tour
Tasty Tuesday party
OPTIONAL ACTIVITIES: COSTA RICA & PANAMA (10 DAYS)
Underwater surfing
Fishing
Scuba Diving
Waterfall tour
NOT INCLUDED
All meals and drinks (except those mentioned above)
Activities outside of the ones listed above
Any Visa or Visa fees
Travel insurance – Essential for booking this trip.